What is the difference between an Annual & Perpetual Calendar?
Deciphering the difference
For those who aren't familiar with the difference between an Annual and Perpetual Calendar there may seem to be very little aesthetic distinction between the two. To an extent this is true. Both of the watches display the hour, day, date, month and moonphase on the dial.
Where the watches differ is in their technicalities. Whilst an Annual Calendar needs to be manually set once every year, a Perpetual Calendar does not need to be adjusted until the year 2100. This is because the Annual Calendar complication recognises the end of the month (30th or 31st) and automatically resets itself following the end of every month. However it does not recognise that February only has 28 days, or 29 on a leap year, and requires manual adjustment to the 1st of March every year.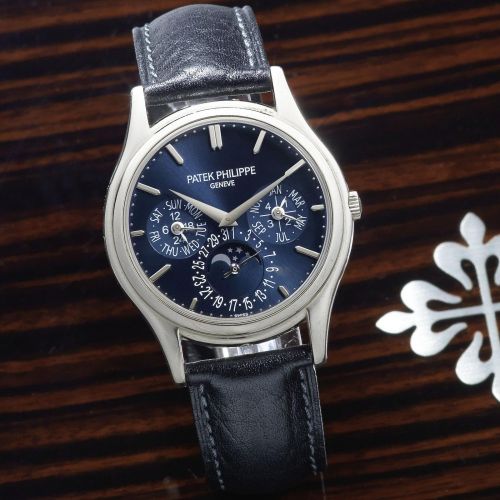 Patek Philippe Perpetual Calendar Ref. 5140                    Patek Philippe Annual Calendar Ref. 5396
The Perpetual Calendar on the other hand recognises leap years and that February ends on either the 28th or 29th and automatically adjusts to March 1st each year, meaning it doesn't need any manual interference (until 2100). This function reflects visually on the dial: you will notice Perpetual Calendars have a leap year indicator on the dial like the 5140 example pictured above (on this watch the indicator for the leap year is in the month sub-dial), whilst an Annual Calendar will not. Of course the Perpetual Calendar is the more complex mechanism and thus more expensive.