Victoria Beckham's Stunning Rolex Watches
From her early days as a pop star to now being a hugely successful fashion designer,
Victoria Beckham has long been a style icon. So it's no surprise to us here at Watch
Collectors that Victoria's great taste in fashion also extends into her choice of watches.
Ask any watch dealer or collector to take a look at her impressive collection of watch-
es that are frequently visible on her wrists in paparazzi shots, and they will agree that
she has excellent taste for great, statement watches. Take her rose gold Rolex Cosmo-
graph Daytona which she is most often pictured wearing for example.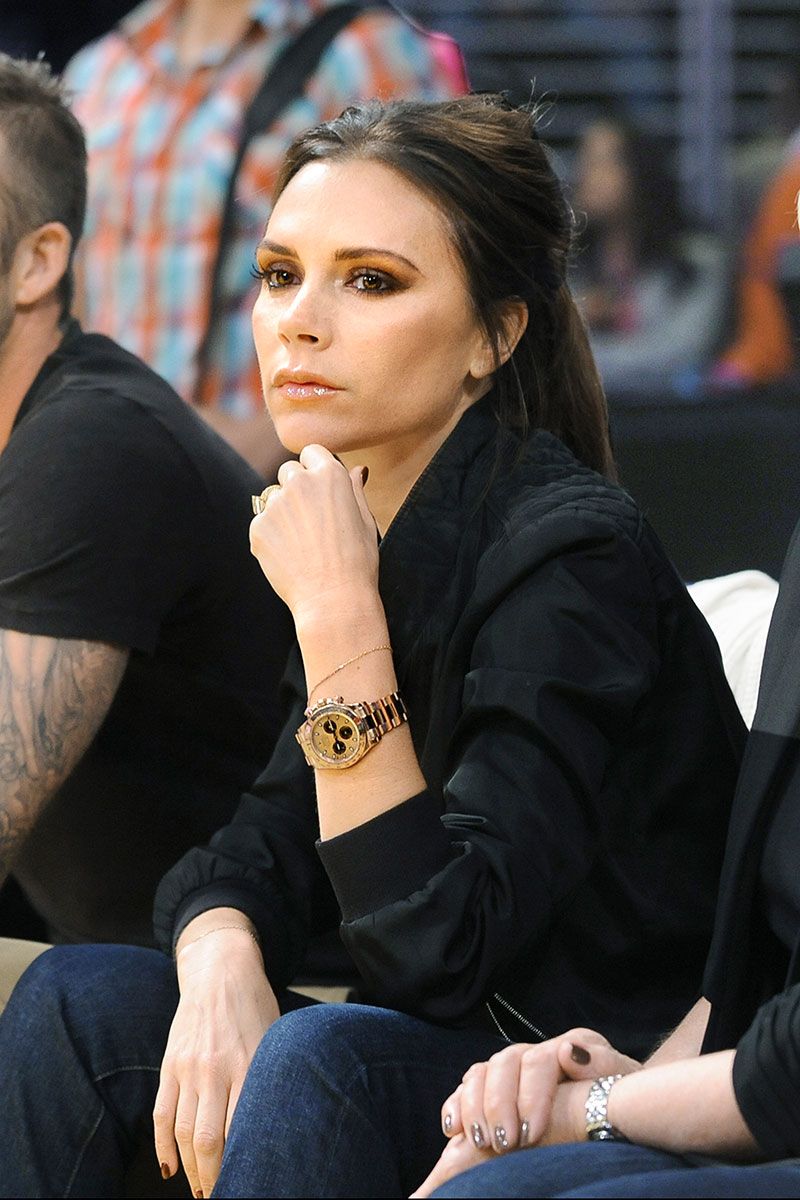 Victoria wearing her rose gold Rolex Cosmograph Daytona
Rolex released the first Daytona watch in 1963 and it was especially designed to suit the
needs of professional racing drivers. The Daytona model has retained its popularity
throughout the years and is one of the most sought after watches produced by Rolex;
its status and the ongoing demand for it is a result of it's beautiful design and the quality
reputation of the Rolex brand.
Though the Daytona model is classified as a gents size watch with a 40mm case, in recent
years it has become trendy for women to wear big 'mens-size' watches – a factor which
resulted in more demand being created for the Daytona model.
We particularly like Victoria's choice out of the Daytona's which are offered by Rolex
in multiple metals, from Stainless Steel all the way to Platinum. Her 18kt Rose Gold
Oyster bracelet and dial with three chocolate sub-dials seamlessly compliment all her
looks, adding an additional sense of luxury to them.
However, Victoria has displayed her knowledge of quality watches by going beyond
purchasing the most coveted watch. Our favourite of hers here at Watch Collectors
has to be her vintage Rolex Day-Date with an aqua green Stella dial.
                                     Victoria wearing her Rolex Day-Date aqua green Stella dial
The purchase of this watch demonstrates her appreciation of certain valuable and
unique vintage watches. The 36mm 'stella' watch was produced in the 1970's as part
of a collection of Day-Date's by Rolex which had bright coloured, hard enamel dials.
These were, and still are, untypical of Rolex dials, which is what makes them valuable
and sought-after today.
Victoria wearing her Rolex Day-Date President
Beyond being great quality watches with an intriguing history behind them, Victoria
shows us that Rolex's make the perfect accessory and statement piece, demonstrating
how very aesthetically pleasing they are alongside her outfits. They certainly add a lux-
urious edge to the simplest of looks and even pull together statement outfits – just
take a look at some examples of Victoria wearing her Rolex's to see for yourself.